Ordinarily, we don't cover downloadable game releases here;  we focus on the larger disc-based releases, on the theory that it takes a really big and chunky game to really generate the sorts of load screens that we're normally interested in.  However, I really to make an exception for the latest creation by Twisted Pixel.  It's a puzzle-based platformer with heaps of charm, and it's obvious that some member of their development team took notes on our rating criteria at some point during development, and endeavoured to do everything just right, in exactly the same way that most mainstream development studios endeavour to do everything just wrong.
I mean, look at this load screen, just look at it: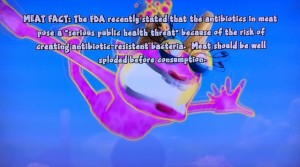 Full review below the fold.